Summer Sidewalk Sale

& Marketplace 2021

Shop Local and find the best bargains at the Summer Sidewalk Sale & 2nd Kentucky St Marketplace
2022 Details Coming Soon!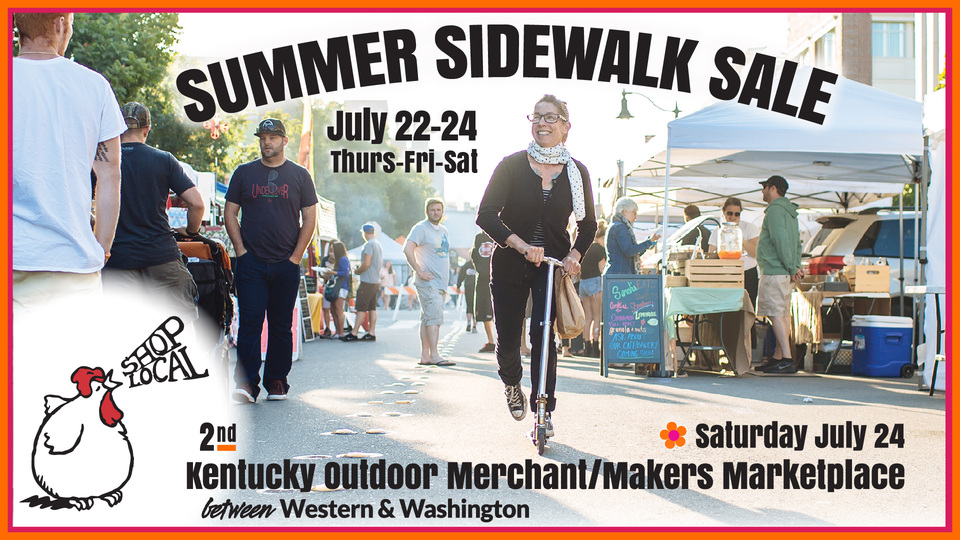 2021 Event Information:

Join us for the annual Downtown Sidewalk Sale, taking place Thursday July 22 thru Saturday July 24th, 2021 (some merchants will also be extending their sales thru Sunday). On Saturday July 24th we are holding the 2nd Outdoor Kentucky St Marketplace from 11am - 5pm. The marketplace will consist of downtown merchants and local Makers with lots of interesting and tasty items. Kentucky St will be closed between Western & Washington with plenty of room to walk about freely.
Independent stores and restaurants are a vital part of the special character of Downtown Petaluma and the Sidewalk Sale is a perfect opportunity to do your part in keeping Petaluma retail alive and take home some great items at a fraction of the cost.

So join us for a stroll, grab a coffee, lunch, and enjoy a fun shopping experience at the
Downtown Summer Sidewalk Sale, Thurs-Sat July 22-24
and the
Ke
ntucky St Marketplace on Saturday, July 24th.

SIDEWALK SALE PARTICIPANTS
THURSDAY JULY 22-24, 2021
Alchemia Gallery

Athletic Soles
Ava Lane Hairdressing
Barber Cellars
Baxter's Custom Framing & Design

Bay-ti
Boho Bungalow
Copperfields Books
CROWN Hair Salon
Ethical Clothing
Flora Luna Apothecary
Flower Child Consignment
Gallery One
Heebe Jeebe
Hollingsworth Jewelers
i Leoni
In the Making
J.Fermi
Louis Thomas Apparel
Marisa's Fantasia
Marmalade Sky
Nan Winters
One Love Cosmetics
Opera house collective
Passeggiata Shoes

Petaluma Community Acupuncture
Petaluma Estate Jewelers

Petaluma Home & Garden
Petaluma Pet company
Petaluma Pie Company
Petaluma Seed Bank – Thursday only
Robindra Unsworth
Sienna Antiques
Softshell
Sonoma Cutlery
Sonoma Spice Queen
Splendid Little Shoppe
Stink
Stockholm Restaurant
Strike Zone
Summer Cottage Antiques
Threads A Boutique
Toy B Ville
Uber Optics
Vintage Bank Antiques
KENTUCKY ST MARKETPLACE PARTICPANTS
SATURDAY JULY 24
MERCHANTS
Alchemia Gallery
Baxter's Custom Framing & Design
Bliss Bridal & Black Tie
Big Bowl Bike Shop
Boho Bungalow
Clutch

CROWN Hair Salon
Ethical Clothing
Flower Child Consignment
i Leoni
Louis Thomas Apparel
Marmalade Sky
Obsessed
One Love Cosmetics
Opera house collective
Petaluma Estate Jewelers
Roe & Company
Sonoma Cutlery
Spiral Jewelry
Stink

Stockholm Restaurant
Strike Zone
Summer Cottage Antiques
Threads A Boutique
Yankee Girl Antiques
LOCAL MAKERS
Barely Lit Co - Soy wax candles with essentials oils
Buddy's Farm – Honey & Bee products
Cat-Hawk Gardens – Kodedama string gardens
City of Petaluma – Drought Control
Creations By Sandra – Homemade resin items
Dismal Things – Cute & creepy Art
Fosknit Handmade – Handmade crochet & knitted items
Island goddess – Clothing, jewelry & decor
Kandila By Jem – Natural soaps & soy wax candles
Little Miss Gypsy – Unique handmade jewelry
Mariposa ice creamery – Homemade ice cream
Medicine Makers – Bath bombs, body products & teas
spoonful of sugar – Delicious homemade baked goods
Stella's Table – Jam, jelly, salts & custom gifts
Stockhome – Home goods, handbags, scarves etc
The Italian Corner - Fresh Pasta, gnocchi, ravioli, salsa
Woof Baked Goods – Homemade dog cookies & other