Filming in Downtown Petaluma
For more than 50 years, the City of Petaluma, California, has served as a backdrop for Hollywood films, and in more recent times, television commercials. The reason is due to Petaluma's unusual variety of architectural types consisting of styles ranging from Victorian elegance and turn of the century farms to present day urban settings...and everything in between.
This unique collection of architecture and landscapes has resulted in Petaluma's frequent use as a location for motion picture and television productions, along with a growing reputation as 'Hollywood North'.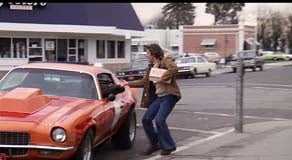 As far as the commercials are concerned, the transitory nature of television makes it difficult to remember locations used in TV productions. Hundreds of commercials have been filmed in the town resulting in a frequent presence of Petaluma on television. Of particular interest are Ronald Reagan's famous 1984 Morning In America commercials which were filmed almost entirely in downtown

Petaluma.

The following is a list of Films that have taken place, in part, in our very own Petaluma:
The Farmer's Daughter (1947): Filmed at Scott Ranch on Adobe Rd, Star Loretta Young won her first and only Academy Award for her portrayal of "Katie" in this film.
Mr. Blandings Builds His Dream House (1948): Featuring Cary Grant and Myrna Loy, this took place almost entirely in Petaluma.
Pollyanna (1960): This feel good film featuring Haley Mills, Jane Wyman, Richard Egan and Karl Malden was filmed in part in Petaluma.
Ground Zero (1972): Released in Finland, this thriller featured scenes filmed at the old Wells Fargo Bank (currently Vintage Bank Antiques), and at the Petaluma Turning Basin.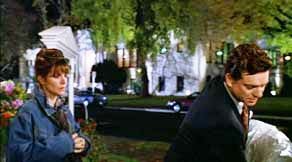 American Graffiti (1973): Undoubtedly the most well know Film made in Petaluma. Jerry's Cherries in the film, is the parking lot next to Mystic & McNear's. Petaluma Blvd, Western Ave, Kentucky St, Old Adobe Rd, Frates Rd, Gilardi's Baitshop on Bodega, and Petaluma High were all locations used in this Film.
More >> Fairgrounds and the Petaluma Speedway. at 26 and 28 Liberty St, on Western Ave and Petaluma Blvd North.
More>> revenge, wealth and seduction. Heavily filmed in Downtown Petaluma, the Mystic, McNear's, Petaluma Blvd North, Western Ave, American Alley and Putnam Plaza were all used in the film.
More>>
Flubber (1997): This Disney remake of 1961's The Absent Minded Professor starred Robin Williams and Marcia Gay Harden. The scene filmed in Petaluma was at the Church of the Open Door at the corner of Fifth and B Streets.
More>>
Heroes (1977): Henry Winkler, Sally Field, and Harrison Ford starred in this flick about an unstable war veteran travelling cross county. The mail depot on Fourth and C St, Kentucky St and Walnut St were all locations used in this film.
More>>
Mr. Billion (1977): Filming was done at the Sonoma-Marin.

Cujo (1983): Stephen King's horror flick about a rabies infested St. Bernard featured the Scott Ranch Hills off of Corona Rd.

Impulse (1984): After a small earthquake in a tiny, quiet town, local citizens start to exhibit bizarre, violent and self-destructive behaviour. Starring Meg Tilly and Tim Matheson. The farm sequences were filmed on Spring Hill Road and some downtown shots as well.
More>>
Explorers (1985): A very young Ethan Hawke and River Phoenix starred in this absurd SciFi movie. Residential locations on D St, a huge old oak at the top of English St, and a tilt a whirl scene at Martha St were all used in this flick.
More>>
Peggy Sue Got Married (1986): Kathleen Turner, Nicolas Cage, Joan Allen and then unknown Jim Carrey starred in this flash back flick.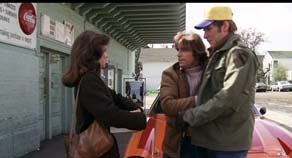 Peggy Sue's hometown in the movie is Petaluma. Her home was portrayed as the white three story Victorian home located at 226 Liberty St. Filming was done at various locations on Petaluma Blvd North/South, Western Ave, Kentucky St, Fourth St, and D St as well.
More>>
Howard the Duck (1986): Lea Thompson, Tim Robbins, and Paul Builfoyle all starred in this wacky comedy. The ultralight aircraft took off from Western Ave and soared over the Petaluma River where the pursuing police cars crashed into the river.
P.K. and the Kid (1987): This dramatic film features Molly Ringwald, and was filmed at The Hide-Away on Kentucky, Petaluma Valley Hospital, City Hall and at the Arm Wrestling Championships at the Sonoma-Marin Fairgrounds.
Tucker: The Man and His Dreams (1988): Featuring Jeff Bridges, Joan Allen, Christen Slater, Martin Landau and directed by Frances Ford Coppola. Scenes for this movie were filmed at the Petaluma Speedway.

Shadow of a Doubt (TV) (1991): A TV version of the classic Hitchcock thriller, Downtown Petaluma and the Train depot were featured in
this flick.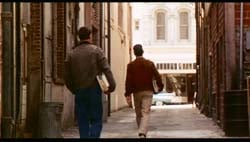 Basic Instinct (1992): Filming took place at midnight for a couple days in Petaluma around St. Vincent Church, a small adjoining park, a row of houses

Lolita (1996): Featuring Jeremy Irons and Melanie Griffith, this movie featured scenes from Petaluma Blvd North, Western Ave, and the D Street Bridge.
Phenomenon (1996): Featuring John Travolta, footage was filmed in rural Petaluma locations.
Merlin's Shop of Mystic Wonder (1996): Mostly known for being featured on Mystery Science Theater 3000, the exterior of Merlin's titular shop is on Kentucky St.
Inventing the Abbotts (1996): Liv Tyler, Joaquin Phoenix and Billy Crudup starred in this 1950 period piece about

Paradise Cove (1997): A scene from this movie was filmed on the Petaluma Queen Riverboat, and featured musican Bob Dylan.
Videoplasty (1998): Concert footage of the metal band, Primus was shot at the Phoenix Theater.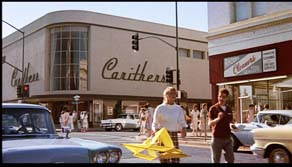 Brian's House (1998): Scenes from this movie were filmed at a Queen Anne Victorian home on Prospect Street.
Around the Fire (1998): This film features a young Devon Sawa and Tara Reid and features scenes filmed at the Cypress Hill

Pleasantville (1998): Starring Joan Allen, William H Macy, Toby Maguire and Reese Witherspoon, this film featured scenes filmed at Petaluma Blvd and Western Ave.
Mumford (1999): Starring skateboarder Jason Lee, Martin Short and Zooey Deschanel, this captivating comedy was filmed largely in Petaluma. Locations included Liberty St, Western Ave, B Street (at Rex Hardware) and residences off of Sunnyslope Ave.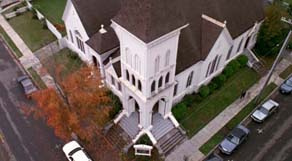 Never Die Twice (2001): This low budget SciFi flick spent three days filming in Petaluma.
Hulk (2003): A seance was done in this film showing a rancher in a truck reacting to the Hulk, and was shot in the hills above Lakeville Hwy and in rural southeastern Petaluma.
Cheaper by the Dozen (2003): This remake of the 1950 movie of the same name featured Steve Martin, Bonnie Hunt and Hilary Duff. The family home in fictional Midland, IL, was actually filmed in rural Petaluma.
The Hamiltons (2005): This indie Horror flick was not only filmed around Petaluma, but co-written by Petaluman Adam Weis.
Molotov Alva (2007): This strange documentary film tells the tale of a man living in Petaluma, who begins a new digital existence inside a virtual world, Second Life.
Courtesy of ~
chillybin.com/movies/index.html
The above site offers detailed information about films produced in Petaluma and pictures of the scenes. Click the link to take the tour!
wikipedia.org/wiki/Petaluma,_California