Halloween Trick or Treat Trail
October 31, 2023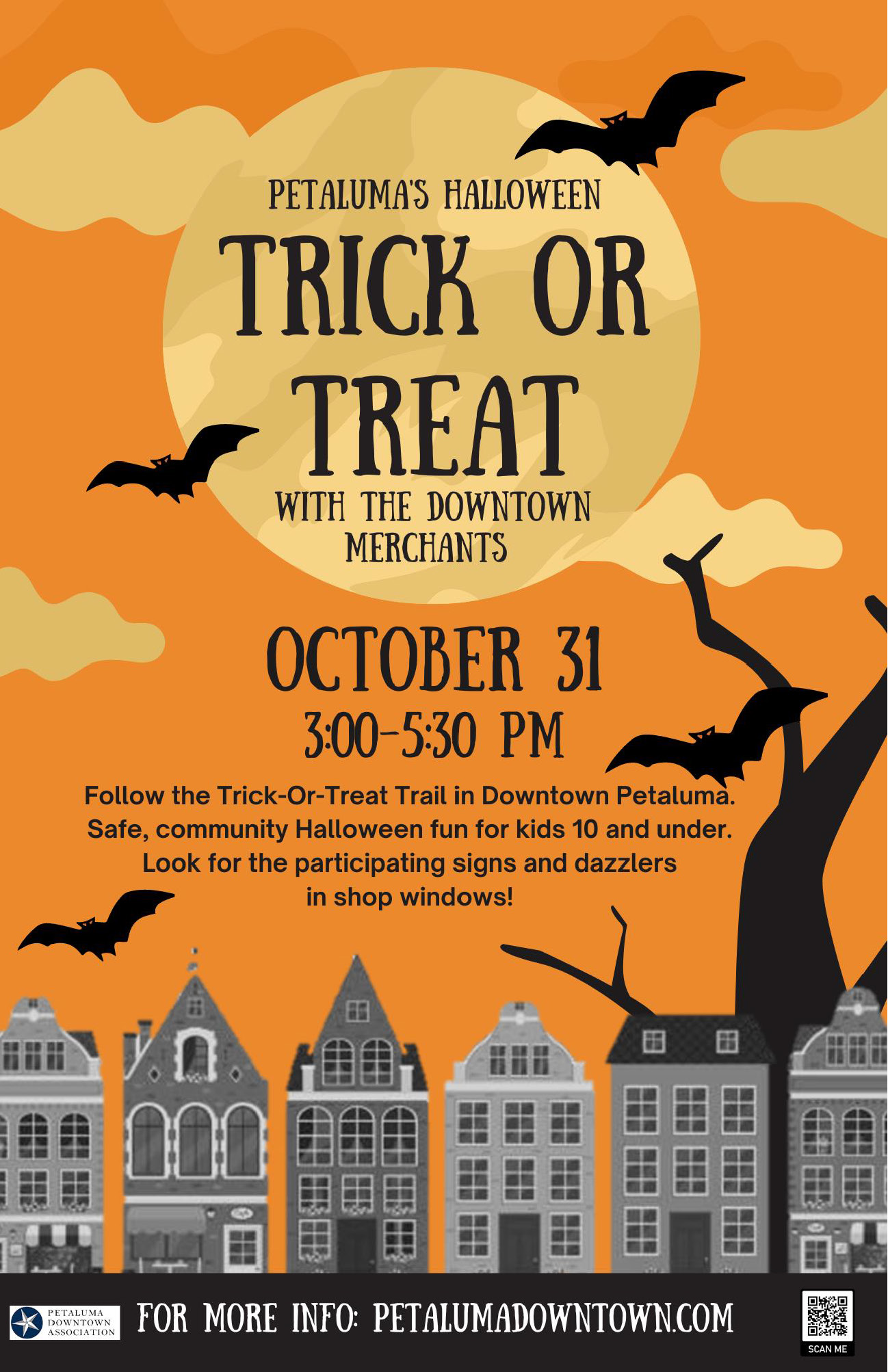 A time of Bats and Broomsticks, Blood and Bugs - and of course, Downtown Petaluma's Safe "Trick or Treat Trail" with the downtown Merchants!
Parents - gather your little ghosts, goblins, monsters, Harry Potters, witches on broomsticks and princesses, and join the participating downtown merchants for the Annual Trick or Treat Trail this Halloween, Tuesday, October 31 ~ from 3pm-5:30 pm!
Download the Trick or Treat Trail Map below which lists all participating locations on Kentucky St, 4th St, Western Ave, Petaluma Blvd, 2nd St, "C" St, Theater District, and the River Plaza Shopping Center. More than 70 businesses will be handing out Halloween candy to costumed children!
Participating merchants will have signage placed outside their stores and noted on the map.
You can download a map below or pick one up from the Petaluma Visitors Center
(hours here) or from the Petaluma Museum on Friday, Saturday, & Sunday from 10am-4pm or on Monday from 3pm-5:30pm.
Come and celebrate a safe and spooktacular time in our wonderful downtown!
Enjoy these fun Halloween tidbits:
Orange and black are Halloween colors because orange is associated with the Fall harvest and black is associated with darkness and death.
Jack o' Lanterns originated in Ireland where people placed candles in hollowed-out turnips to keep away spirits and ghosts on the Samhain holiday.
Pumpkins also come in white, blue and green. Great for unique monster carvings!
Halloween was brought to North America by immigrants from Europe who would celebrate the harvest around a bonfire, share ghost stories, sing, dance and tell fortunes.
Tootsie Rolls were the first wrapped penny candy in America.
The ancient Celts thought that spirits and ghosts roamed the countryside on Halloween night. They began wearing masks and costumes to avoid being recognized as human.
Halloween candy sales average about 2 billion dollars annually in the United States.
Chocolate candy bars top the list as the most popular candy for trick-or-treaters with Snickers #1.
Halloween is the 2nd most commercially successful holiday, with Christmas being the first.
Bobbing for apples is thought to have originated from the roman harvest festival that honors Pamona, the goddess of fruit trees.
Black cats were once believed to be witch's familiars who protected their powers.