2022 Summer Sidewalk Sale

July 21-23
Shop Local and find the best bargains at the Summer Sidewalk Sale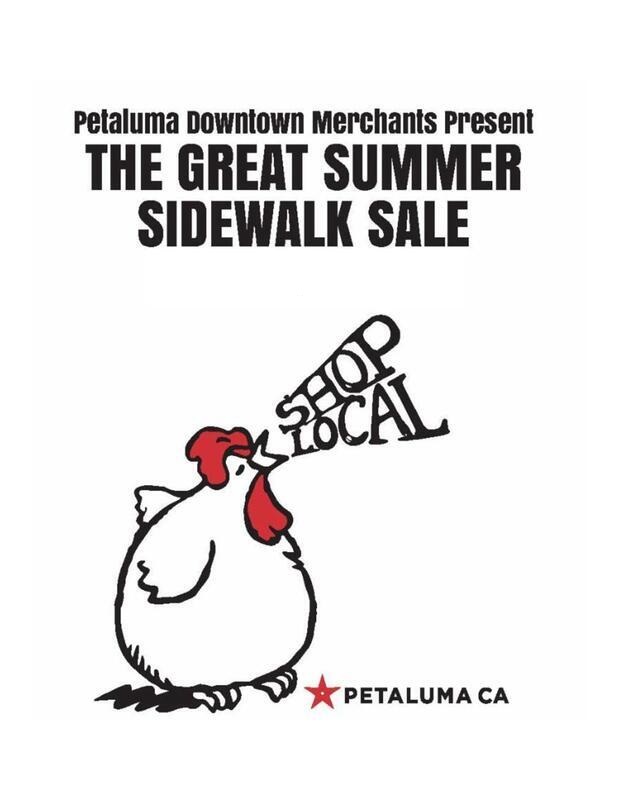 2022 Event Information:
The annual Downtown Sidewalk Sale will take place Thursday, July 21 through Saturday, July 23, 2022 (some merchants will also be extending their sales through Sunday).
Independent stores and restaurants are a vital part of the special character of Downtown Petaluma. The Sidewalk Sale is a perfect opportunity to do your part in keeping Petaluma retail alive and take home some great items at a fraction of the cost!

Join us for a stroll, grab a coffee, lunch, and enjoy a fun shopping experience at the Downtown Summer Sidewalk Sale!

2022 SIDEWALK SALE PARTICIPANTS ~
BUSINESS

ADDRESS

SALES / SPECIALS OFFERED

Alchemia

111 Kentucky St

Original ceramics, paintings, fiber arts and more on sale.
Open both in the store and the sidewalk.
We hope send you home with a one of a kind magical piece of art. See you soon!

AthleticSoles

49 Petaluma Blvd N

10% off all shoes & 20% off apparel. Thursday - Saturday.
Clearance items 40-70 percent off.

Ava Lane Hairdressing

27 Western Ave

All hair and skin care products outside for the side walk sale will be on sale for $20. While supplies last!

Bliss Bridal & Black Tie

145 Petaluma Blvd N

Prom dresses form $29.
Half-off Sale Gowns starting at $99.

Brooks Note Winery and Tasting Room

426 Petaluma Blvd N

Take a break from the summer heat with $12 glasses of Rose or Pinot Blanc.
Open 11-6, last call at 5:30.

Copperfield's Books

140 Kentucky St

Buy 2 Get the 3rd Free on Publisher Overstock

Estuary

120 Petaluma Blvd N

50% off select items which will be outside on our deck.

Ethical Clothing, LLC

122 Kentucky St, Ste B

Lots of fabulous summer styles! Clothing and accessories.

Fiber Circle Studio

113 Kentucky St

Yarns, kits, and accessories on sale including locally produced yarns!

Flourish

5 4th St

Select items on sale!

Goblin Bros

133 Kentucky St

Stop in for a visit!
i Leoni

120 Kentucky St

Up to 70% off!!!

In The Making

122 American Alley

Last chance, seconds and archives sale!

J. Fermi

119 Kentucky St

Special Discounts

Louis Thomas Fine Men's Apparel

150 Kentucky St

Eclectic variety of quality menswear

Marisa's Fantasia

29 Petaluma Blvd N
LanMart Building

Misc merchandise

Marmalade Sky Floral Design

123 Kentucky St

Spring pots and some Christmas product will be on sale up to 40% off.

Obsessed

98 Western Ave

Spend $250 and up receive $25 gift card
Spend $500 and up receive $50 gift card

Passeggiata Shoes

7 Western Ave

Special sale items

Petaluma Home & Garden

516 Petaluma Blvd S

Up to 50% off on select merchandise.

Petaluma Pet Company

144 Petaluma Blvd N

Sale items will be out front in our entryway.

Pilates With Anne

35 Petaluma Blvd N

Heavily discounted price for 30 days of unlimited semi-private Pilates sessions.

Smith & Bergen Bicycles

7 Petaluma Blvd N

10% off all bikes and 15% off all accessories.

Sonoma Cutlery

130 Kentucky St


Specific items on sale.


Splendid Little Shoppe


140 Petaluma Blvd N


Our Splendid Little Sidewalk Sale will include a $20 and under rack on the sidewalk with new styles added the beginning of each day - Thursday, Friday, and Saturday!
We will also be celebrating our Splendid Local Customers with 10% storewide for all 3 event days!


Stink

126 Kentucky St

Large savings

Summer Cottage Antiques


153 Kentucky St

Lots of items on sale.

Sweet Melissa's Boutique & Workshop

600 Petaluma Blvd S
20% off store wide plus special deals on merchandise placed outside.
Beautiful leather products, garden and home decor, unique old and new items.
Threads A Boutique

117 Kentucky St
Misc items.
Toy-B-Ville

136 Petaluma Blvd N

$1, $5, $10 tables inside.

VIBE Gallery

1 Petaluma Blvd N

VIBE merchandise, beaded jewelry, ceramics, art prints, sun hats.

Ziz Land

210 4th St, Ste B

There will be selected merchandise discounted on the outside table and in the store.